SPECIAL (Australian) OFFER
The Confidential Guide Vol 5 - Buy one, Get one free Sale.
Buy the latest edition of the Confidential Guide ($70) and receive a free copy of Planet Golf USA (2020)
(only available in Australia)
Tom Doak's famous directory of international golf courses has been revised, and this special offer is available via Planet Golf to Australian golfers only. Purchase the latest edition of Doak's Confidential Guide series (Vol 5.) for a limited time and you will receive a free copy of the fully updated 2020 volume of Planet Golf USA.  
Perfect for Father's Day, purchase two books for just $70 (incl P&H).
Only available for delivery within Australia.
SOLD OUT – This offer is no longer available

To purchase Planet Golf USA please click here
The Confidential Guide Volume 5 features golf courses in Asia, Australia and New Zealand.

Reviews are written by Tom Doak based on his own personal observations plus the input of his three co-authors, Ran Morrissett, Masa Nishijima, and Planet Golf's Darius Oliver. Each course is graded on a 0-10 scale by each author who has seen it.
These reviews will provide honest and unvarnished views from the authors that will help you plan your golf vacations, business side trips and golf adventures.
The Confidential Guide also includes:
"Gourmet's Choice," a selection of eighteen courses the authors would take a friend to play.
The Gazetteer, containing authoritative lists of the prettiest, hardest, best and wildest holes in the world.
Diverse subjects as the Best Set of Par 3's, Best Lunch, and Best Courses to Take Your Dog to Play.
Over 100 photographs that attest to the reviews of courses, each beckoning golfers to go and try their luck.
Planet Golf USA – Second Edition (2020)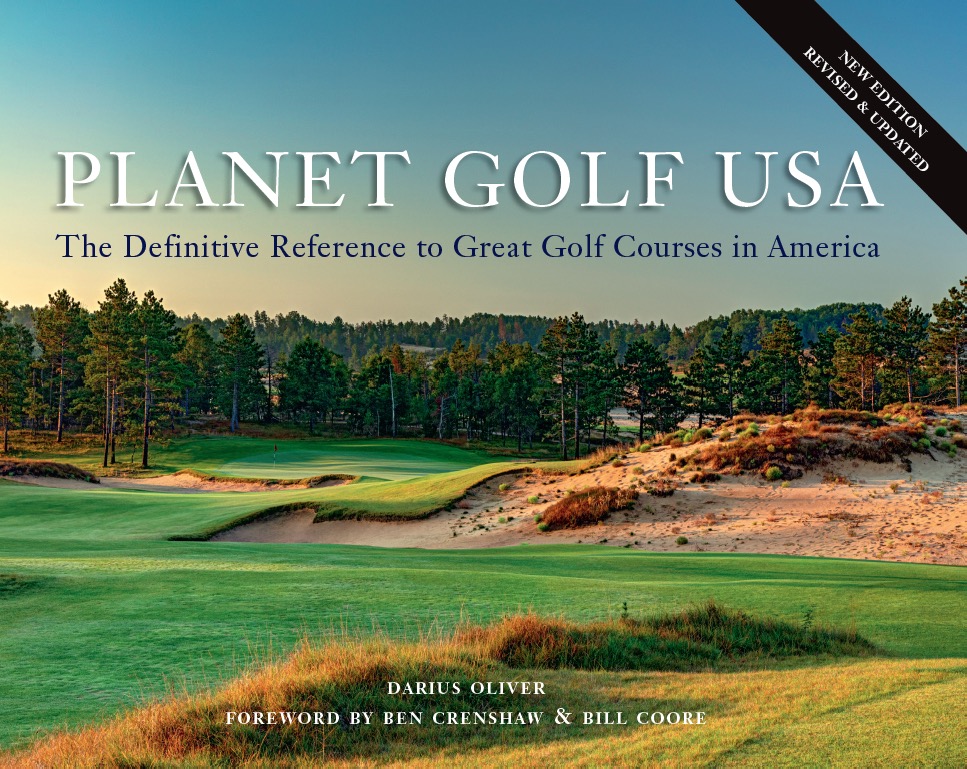 Features all new photography and reviews of America's best modern courses.
Completely new and revised, this second (2020) edition of the popular Planet Golf USA book features a foreword by Ben Crenshaw and Bill Coore and stunning photography of America's best 120 plus courses.
Included are reviews of famous Top 100 ranked courses in the United States, such as Augusta National, Cypress Point, Pine Valley, Shinnecock Hills, Pebble Beach, Whistling Straits, Oakmont, National Golf Links of America, Winged Foot, Pacific Dunes, Bandon Dunes, Oakland Hills and many more along with modern gems like Sheep Ranch, Trinity Forest, Ohoopee Match Club, Ozarks National, Silvies Valley, Streamsong, Sweetens Cove, Winter Park and others.
Author Darius Oliver provides detailed reviews of the best golf courses in the USA, as well as a comprehensive ratings section that outlines the best and most spectacular golf courses and golf holes in the country. There is also an updated Planet Golf World 100 ranking that outlines the 100 finest courses on the planet.
SOLD OUT – This offer is no longer available
To purchase Planet Golf USA please click here
Back to News