SPECIAL TWO for ONE Offer – The Confidential Guide Volume 2 & 3
(This offer is now unavailable)
Tom Doak's famous directory of international golf course has been revised, and this special offer is available via Planet Golf to Australian golfers only.
Purchase Volume 2 and Volume 3 of The Confidential Guide for just $60 (incl P&H).
That's better than half retail price - but only for a limited time.
Volume 2 features North & South America (Winter Destinations).
Volume 3 features North & South America (Summer Destinations).
The northern half of the Americas includes all the courses in Canada, New England, the Mid Atlantic states, the Appalachians, the Great Lakes, the Great Plains, the Rocky Mountains and the Pacific Northwest. Volume 3 is the biggest edition to date, with more than 650 courses reviewed – more than the original (Worldwide) edition of The Confidential Guide.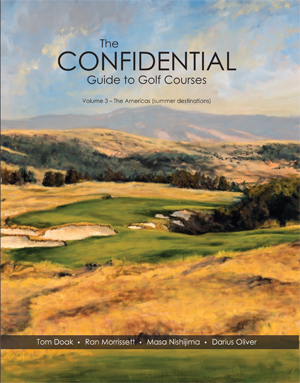 Reviews are written by world class architect Tom Doak based on his own personal observations plus the input of his three co-authors, Ran Morrissett, Masa Nishijima, and Planet Golf's Darius Oliver. Each course is graded on a 0-10 scale by each author who has seen it. 
SOLD OUT - The Confidential Guide Vol 2 and Vol 3, for just $60.