Beautifully situated along the coastline of Greece's Peloponnese Peninsula, Costa Navarino is home to a number of luxury hotels and world-class leisure and relaxation facilities. It also houses two golf courses; the Dunes Course designed by European Golf Design with help from Bernhard Langer, and the Bay Course by the Robert Trent Jones II Company.
Ordinarily, signature golf design and fancy 5-star European resorts are a worrying combination but there is much to admire at Costa Navarino, particularly on the less regarded Bay Course. Measuring 'only' 5,600 metres from the back tees, and with an unconventional routing that includes six par threes, the course occupies steep olive grove country but with direct coastal access on both nines. Both the second and second last holes play along the historic Bay of Navarino shoreline and offer stunning views of the nearby fishing village of Pilos. The 2nd is a lovely par three to a heavily bunkered green while the 17th is a short par four whose open fairway will encourage many to bomb their longest drive.
Despite the obvious glamour, the 2nd and 17th are not the only highlights of the Bay Course. Among the other standout holes are the downhill opener played toward the water and the back and forth 4th and 5th, the former a tumbling, tiered reachable par five that mixes the 8th at The National (Old Course) with the finishers at Kapalua. The 5th then heads back up the hill and is an effective short par four with an open fairway and an ideal approach angle protected by a single bunker.
Water outlooks on the 9th and 16th are also memorable, along with regular mountain views, fairways carved through ancient olive groves and inland par threes to strong green sites at the 5th, 11th and the charming drop-kick 8th.
In some ways the Bay Course at Costa Navarino is similar to another Robert Trent Jones Junior design, the Castle Course at Bro Hof Slot in Sweden, for the manner in which its lesser known holes provide more fun and enjoyment than those at its 'championship' calibre sibling. The Dunes Course is a strong test of golf, and while not suggesting the Bay Course is a pushover it's certainly a more pleasurable place to play. For those planning a stay at Costa Navarino, this is the course we would most strongly recommend for repeat rounds – unless you are an elite amateur or professional golfer.
- - - -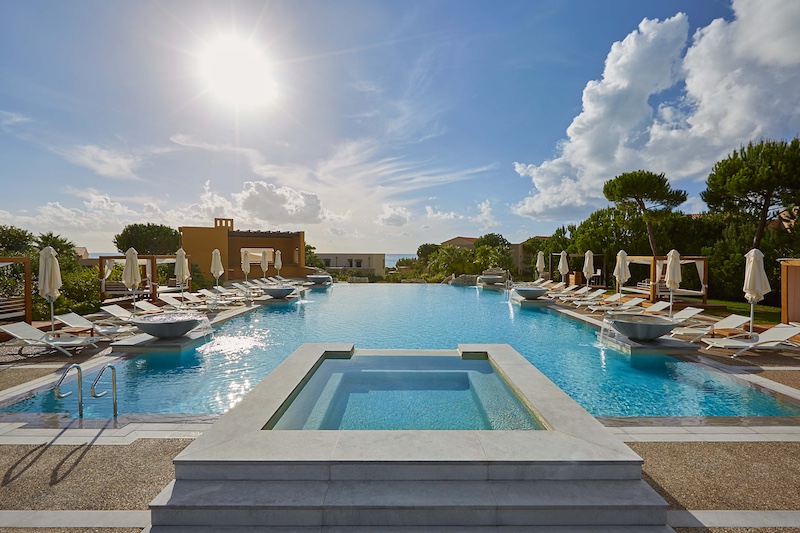 The Westin Resort at Costa Navarino is a superb 5-Star facility on Greece's Peloponnese Peninsula. With luxury accommodations and world-class leisure and relaxation amenities, not to mention glorious Mediterranean views and access to the Bay and Dunes golf courses, it is one of the finest family resort destinations in Europe.