Later this year the Cape Wickham golf course will open on King Island in Tasmania, the culmination of several years toil for a small but dedicated group of passionate individuals. While there is still much work to do in preparation of the November opening, and grass left to mature, for those involved in the project the divots can't come soon enough.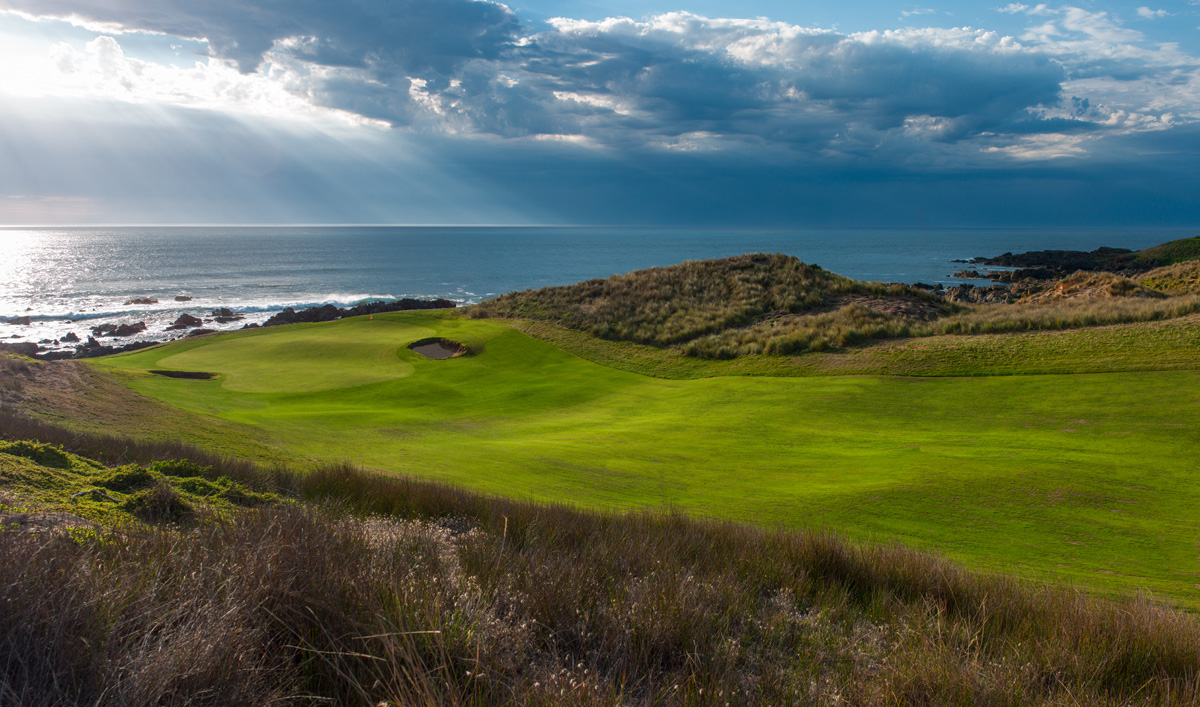 Above - 10th hole at Cape Wickham. Pic by Larry Lambrecht
My own involvement at Cape Wickham started back in 2011, when an assignment for Australian Golf Digest magazine took me to the small, remote island in the middle of Bass Strait. It was during that trip that I first ventured North and saw the land at Wickham, adjacent Australia's tallest lighthouse and blessed with the most spectacular dunes, ocean, cliff and beach combination I had seen anywhere in the world. Despite the undeniable attraction of the site, it still surprised to learn that a golf course was in the planning. How do you get golfers to King Island and how could this thing possibly make financial sense? I still ask myself these same questions.
Interestingly, prior to my visit both Andrew Purchase and Graeme Grant had fallen in love with Cape Wickham and made offers to the previous owner at about the same time. I understand Purchase's bid was accepted, in part, because his offer was unconditional. As we know, Grant went on to buy a different site closer to the main township of Currie, and is in the process of building his own course at Ocean Dunes.
What drew these two men to King Island at the same time is unclear, but what got their attention was the unique availability of dramatic, sandy land adjacent the ocean - and at a reasonable price. There was also the matter of planning approvals. Within a couple of months of buying Cape Wickham, Purchase had approval from the local council for an 18-hole golf course, practice facility, clubhouse and small, boutique hotel. All were planned and permitted on his private 215-acre block, which is the land immediately south of the lighthouse. The initial planning documents and course routings had been prepared by designers Ross Perrett and Richard Chamberlain.
What concerned me about the original proposal was the scale of the terrain used for golf and the quality of the crown land adjoining the private freehold. Purchase's title boundary was set inland from the coastline, and had forced the designers to route holes up and down a series of enormous dune valleys. Although the downhill holes were incredibly dramatic, the climbs back up were so steep that walking for most golfers would have been out of the question. Walkability is certainly a key to great golf, but equally playing a course next to some of the best golf land in the world would not have sat well either.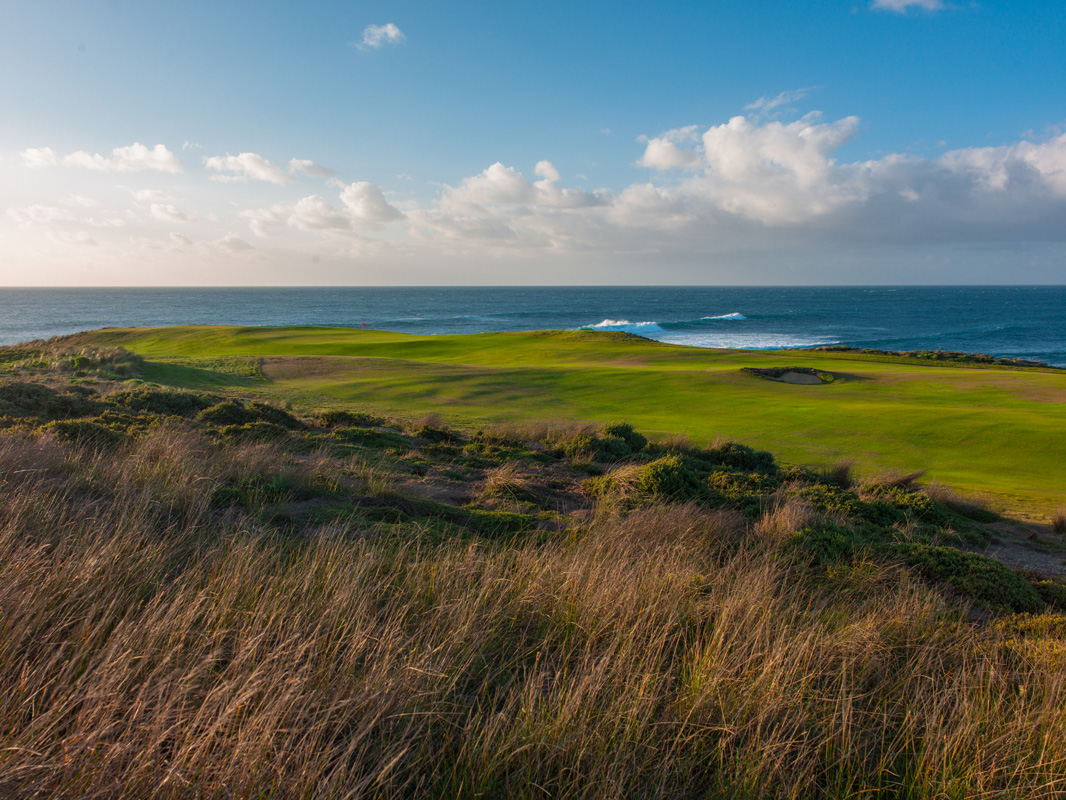 Above - The 2nd hole, not originally part of the development site. Pic by Larry Lambrecht
It was at this point that we approached Duncan Andrews, owner and developer of The Dunes and Thirteenth Beach in Victoria. Andrews has a keen eye for golf development and an interest in quality, seaside projects. Stunned by the natural attraction of the site, he agreed that the coastal reserve land was crucial and committed to funding the project subject to a long-term lease being issued by the Tasmanian authorities.
As Andrews explains, "the only way to make a half decent business case for development on such a remote island was if the course was genuinely outstanding, in a world context. To achieve this, two fundamentals I felt were critical. First, it was essential that we were able to use the Crown Reserve or coastal foreshore, which had a number of unbelievable golf holes just waiting to be uncovered. A long-term lease from the Tasmanian Government on this land was mandatory, but obviously it was going to be very difficult to obtain. Second, we needed to acquire 100 acres of adjacent land that was marginal for farming but also contained some potentially superb holes. This land is now the site of holes 6 through 12. It was only with these two conditions fulfilled – the long term lease and the land acquisition – that I could begin to justify the risks involved in a project like this and be confident of creating something that was a very serious course, by world standards. Just as important, it meant the course had a better chance of being economically sustainable."
Those who visit Cape Wickham today will dismiss the decision made to seek a crown lease as being all-too obvious, but there are numerous environmental issues at play down on the island and an almighty can of worms was opened once the state was involved. Chief among them is the Short-tailed Shearwater, or mutton-bird as it is commonly known. Shearwaters are the most abundant Australian seabird and breed in colonies right across mainland Tasmania and its islands. Cape Wickham has as many as 40,000 Shearwater burrows, and many were set across a rocky headland known as Cape Farewell, where we decided we wanted our first few holes. In order to destroy burrows for the sake of a golf course we needed to convince authorities, as well as the environmental lobby, of the project's social and environmental upside, and ensure that appropriate mitigation measures would be put in place to protect the shearwater colony. This is where the planning process got interesting.
Even without the challenge of dealing with a protected seabird species, what we were asking the Tasmanian government for was unprecedented in modern Australia. It had been decades since a lease was granted for golf on a coastal reserve, and our position was that there could be no compromise at all on the land required. The only way to combat the remoteness of King Island was for the golf course to be singularly outstanding.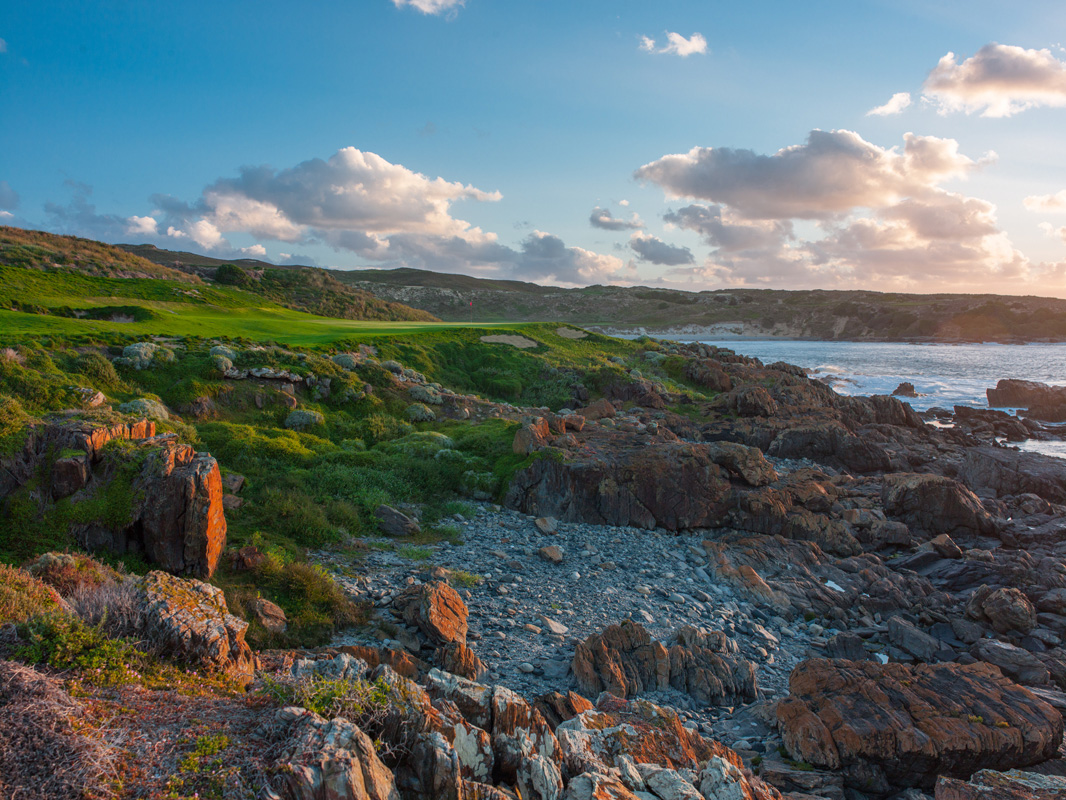 Above - The 16th green, one of several that had to be cleared of bird burrows. Pic by Larry Lambrecht
The entire planning argument at Cape Wickham centred on the conservation outcomes for the area, and what we saw as positive effects on the Shearwater population. The project itself wouldn't kill a single bird but instead destroy a small percentage of existing burrows in an area with endless acres of sand dunes upon which to relocate. We knew anecdotally from islanders that when burrows are ploughed over the birds simply moved to vegetated areas nearby and dug new homes. That proved to be the case at Wickham as well.
It's important to note that from day one the Shearwaters on King Island have been viewed as an asset to the golf attraction. These are remarkable birds that migrate more than 15,000 kilometres to the Arctic each year and return to their birth burrows to breed. Watching the night sky blacken as they return to their nests is every bit as mesmeric as watching Penguins waddle up a beach on Phillip Island. We always felt there would be some visitors to Wickham coming for the birds alone and others who enjoyed the evening spectacle as much as the golf itself.
From a conservation perspective, before golf came along there were cattle and feral cats roaming the site, trampling burrows and destroying birds. Additionally, the rookery was open to recreational 'mutton-birders', who harvested hundreds of chicks each year for feathers, flesh and oil. The cessation of such activity would no doubt benefit the colony. As would the removal of invasive weed species and the setting aside of three large no-go zones as special Shearwater Sanctuary's. Within one Sanctuary was a 4-acre section of limestone rock that we rehabilitated into sandy, vegetated ground to enable displaced birds to burrow new homes in a safe location nearby.
After a lengthy and difficult approvals negotiation, a 50-year lease was granted in June 2013 and construction of the golf course began without delay. Design was overseen by American Mike DeVries and construction handled by Programmed Turnpoint, the company Andrew Purchase had founded a dozen or so years prior. The most immediate challenge faced by Turnpoint during construction, was the fact that any holes on bird land needed to be stripped and cleared prior to their return in late September. As part of our approvals, no major earthworks could be undertaken near burrows once birds had returned.
All told the layout at Cape Wickham covers approximately 120 hectares (300 acres), with around 30 Hectares of maintained turf. The majority of holes either had some burrows in them or were near enough to a rookery to force them to be stripped of vegetation at the outset. The winter of 2013 was both wet and abnormally windy, and having so much sandy ground exposed during this period proved an expensive and frustrating problem. The resolve of the Turnpoint guys to push on when features and entire fairways were being blown or washed away was inspiring. A close-knit crew they were ably led by shaper Lindsay Richter, as laid-back a character as they come. Richter's skill on machinery is matched only by his unwavering patience, on display across Cape Wickham where at times he was forced to build and rebuild the same green site or bunker complex three or four times.
Thankfully, after the birds returned in the Spring of 2013 the wind on King Island died down and excellent progress was made on the golf course through to the following winter. Although all holes had been cleared before the birds return, some could not be built until May 2014 because of Shearwaters nesting back within golf areas. Fortunately, delays waiting for their northern migration were minimal, and from May through to July 2014 the final few holes – 12, 13, 15 and 16 – were completed. Some grassing was held over until last November, however, because of the experience of the previous winter. All holes are now growing-in and on track for our November opening.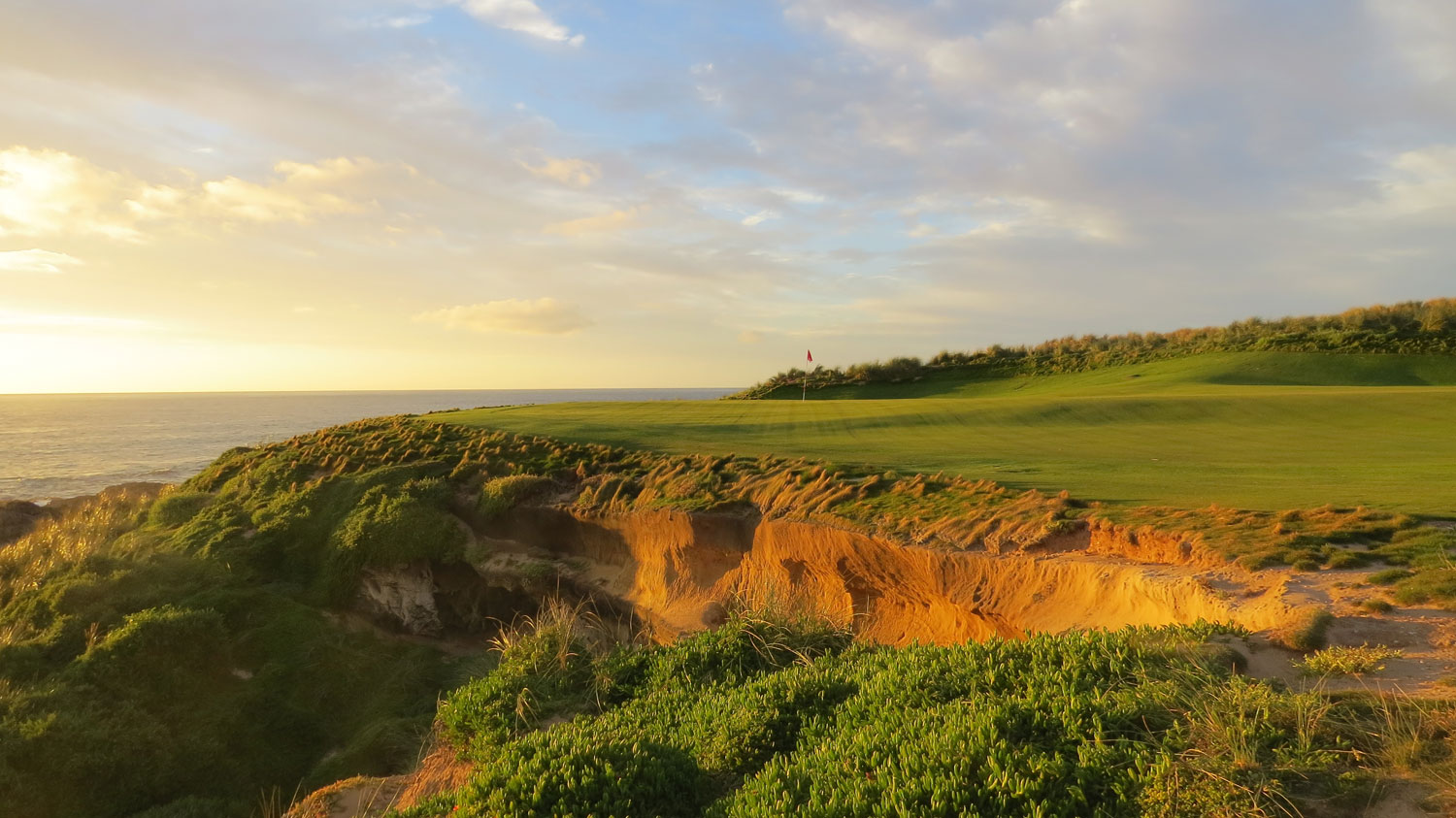 Above - The 12th green, one of the last to be grassed.
As you would imagine, one of the key discussions with a project like this is grass types and very early on it was agreed that we would aim for fescue surfaces tee through greens. The final choice was a blend of Chewings, Creeping Red, Hard and Shoreline Slender Red varieties. The Shoreline was included after inspection of Leigh Yanner's trial plots at The National Golf Club, and chiefly because of its richer green colour. With adequate water the surfaces have performed well, and the more mature holes are essentially playable now.
What has emerged from the virgin wonderland that is Cape Wickham is a golf course we all hope will stand alongside some of the greatest in the world. You wouldn't put yourself through the anguish of building a course on such a wild and remote island if you didn't think the finished product was going to be something special.
Having studied all the great layouts globally, I know how important the routing is and ours at Wickham is very close to perfect. Nothing is gratuitous or overly forced, yet we managed to sneak eight holes along the ocean and set two further greens back against the coastline. When you consider the quality of holes like the 6th, 7th, 8th, 9th and 14th it's clear that those inland are far from the weaker links. The course flows very naturally from green to tee, and the only significant climb is to get from 18 green back to the clubhouse, which eases quite gently up a ridge and enjoys superb views of the lighthouse and across Victoria Cove. Those same views are experienced on the longish transition from 13 green to 14 tee, which calls to mind the walk between 4 and 5 at Barnbougle Dunes or the famous, and much longer, riverside walk at Highlands Links in Canada.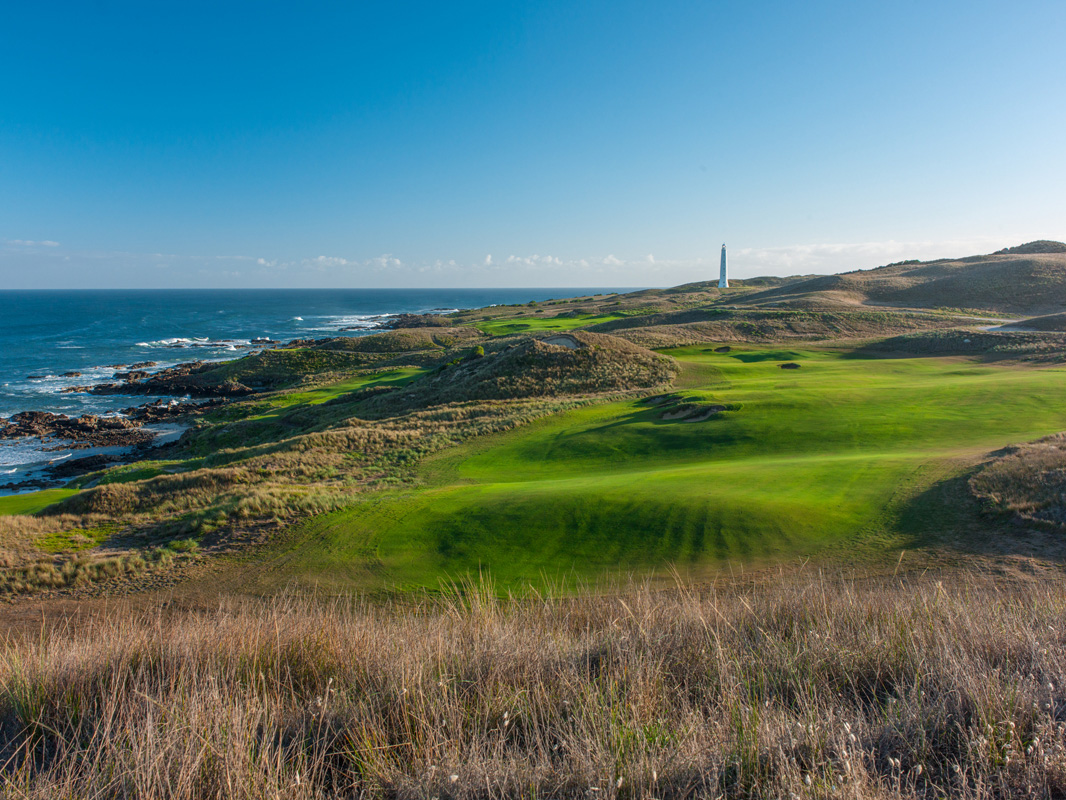 Above - The glorious view from above the 14th fairway. Pic by Larry Lambrecht
Ignoring the spectacular scenery, the most pleasing aspect of the project is the variety on display through design and the emphasis on fun rather than difficulty. There are few more serene spots on earth than Cape Wickham on a calm day, but this course is built for the wind. Greens have bail-out areas if unsure about your game and the fairways are very generous. For even average amateurs it is certainly possible to play multiple rounds without losing a single ball. The challenge is reading the wind and the ground contours and keeping yourself in play. This is easier said than done on par fours like the 12th and 18th, which are so tempting that many will end down a cliff or on the beach because they took too great a risk from the tee.
In a future issue of Australian Turfgrass Magazine we will go through some of the feature holes in more detail, and also describe the difficulty of growing in an all-fescue golf course on King Island. The recent Spring/Summer dry has thrown all sorts of challenges at Superintendent John Geary, who thankfully has the course on track for its November opening following a couple of parched – and nervous – months.
Darius Oliver, golf course consultant and co-designer of the Cape Wickham Golf Links.
This article appeared in the Mar-Apr 2015 issue of Australian Turfgrass Management Journal.
Back to News