As many readers will be aware, last month the Kingston Council voted to refuse a rezoning application for the Kingswood golf course in Melbourne's Dingley Village. The decision has serious ramifications for members of the merged Peninsula Kingswood Country Golf Club, which we will cover in more detail on Planet Golf shortly.

Privately operated as a golf course for the past 80 years, the majority of the Kingswood land is zoned "Special Use" but was subject to a major development proposal from Industry Superannuation giant ISPT, who applied for 'Residential' rezoning and were planning to build more than 750 homes on the property. The ISPT proposal was fiercely opposed by locals. More than 7,000 objections were received by Kingston Council, including from high-profile politicians at State and Federal level, and from both sides of politics.

In the face of such strong public opposition, it was no surprise that the rezoning application was rejected unanimously by Kingston Councilors at its October 17 meeting. Cr George Hua even suggested that Council would now lobby State Government to designate the area as 'Green Wedge" land, in order to prevent any future development applications.

In the absence of a revised development proposal, the only path available for rezoning now is through the Victorian Planning Minister, who would need to overturn the decision of Kingston Council, and ignore overwhelming public sentiment, in order to grant consent. It seems unlikely, which leaves us with one very pressing question. What happens to the Kingswood golf land?

Peninsula Kingswood will be maintaining the grounds at Kingswood until January 31, when the land is officially handed over to ISPT. The company has indicated they plan to lock the gates and cease maintenance of the golf course immediately. The clock is therefore ticking.

I encourage all readers to look closely at the map below (or click the article image), which shows the southeast suburbs of Melbourne from above.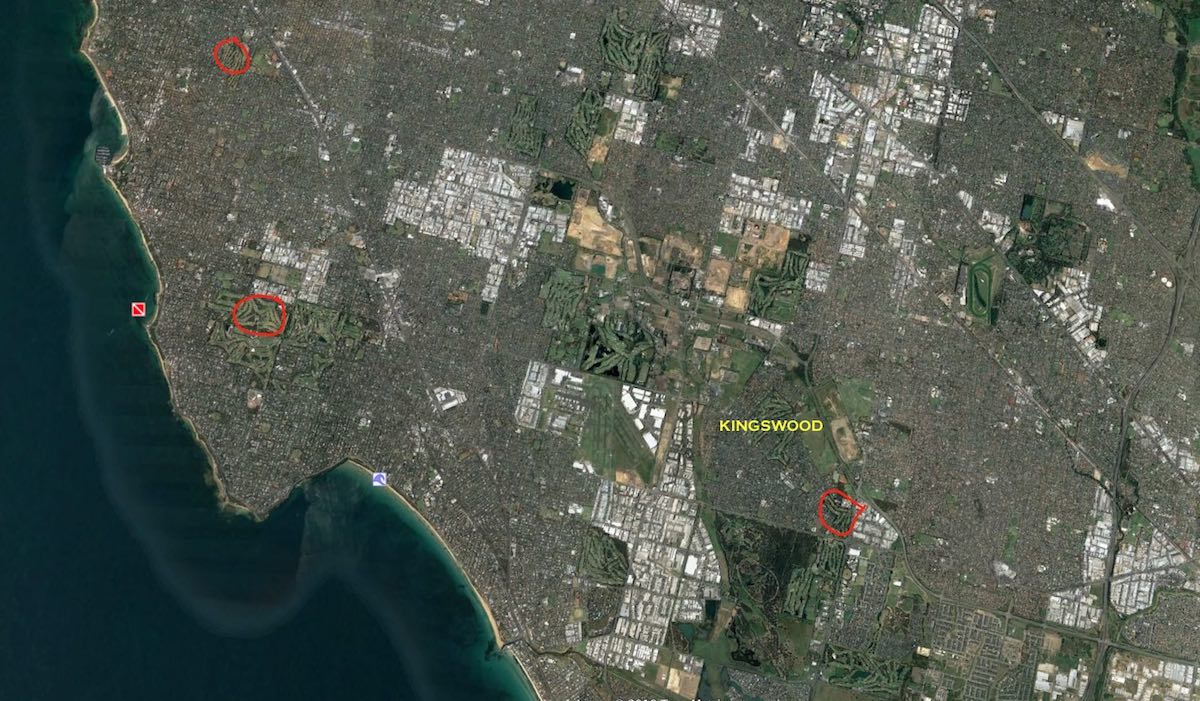 From Brighton in the north to Mordialloc in the south, and as far as Dandenong in the east, the image shows a densely populated metropolis with thousands of homes and hundreds of thousands of residents.

Golf appears well serviced in the area but of the 17 golf courses shown on this map, 14 are private. This is the heartland of the prestigious Sandbelt, and home to the likes of Royal Melbourne, Victoria, Kingston Heath and Metropolitan. For public golfers there are only two and a half courses within this enormous precinct – Brighton and the soon-to-be-downsized Sandringham, as well as the nine-hole Spring Park course.

Not surprisingly, as soon as Council rejected the developers plans for Kingswood the Save Kingswood campaigners were suggesting a host of possible alternate uses for the site – from walkways and bike paths to open parkland, wildlife reserves and even a water sports/fishing or arts precinct. Each of these well-meaning ideas ignores the fact that the land in question is golf course land, and must surely be given a chance to succeed as a public golf facility, before any radical re-purposing.

It seems almost inconceivable that new public courses will be built in metropolitan areas in Australia, yet here is a golf course that has all the infrastructure in place (clubhouse, pro shop, irrigation, maintenance shed, golf holes) and is ready to operate as a public golf facility as soon as February 1 rolls around. This part of Melbourne cries out for good quality public access golf, and what better prospect than a previously private golf course set right in the middle of a busy suburban area? Golf Victoria and Golf Australia should be licking their lips at the prospect. And they should be proactively working to make it happen.

It is true that Kingswood might eventually need to be downsized in order to accommodate a revised redevelopment, but opening the course up to the public would help the developer make good on a promise to, 'pursue a constructive relationship with the local community'. I know there are golf course operators willing to manage the facility, and an eager, hungry market for golf right on the Dingley doorstep.

What's lacking is leadership – and urgency. If the developer cannot work a way through its current planning malaise, then we as an industry should step up and fight for the retention of a condemned private golf course, for the sake of the public course golfer. But we only have three months to figure it out.

Although we have banged this drum many times before, it's worth repeating a few damning stats from the last 20 years. Golf Australia has done an incredible job with elite player development but governs a game that has lost more than 20% of its most important participants (club members) in that time period. Across the country we have seen a decline in club membership numbers every single year since 1999. Many club members start playing golf on public courses.

Despite the decline, Golf Australia maintains as part of its mission statement the following aim – 'to raise the level of interest and participation in the game.' A bunch of elite amateurs and a National Open parked permanently in one city have strangely failed to 'grow the game' or 'increase participation', so a new approach is surely needed. One with a very simple focus – kids. We aren't talking about improving those kids who already play the game, but rather encouraging those who don't play to give golf a go.

Attracting new kids into golf should be the first, second, third and fourth priorities of our governing body, and that means looking at public access golf and as many pathways into the game as possible. A new public course in southeast Melbourne would do wonders for the game in this city, and for the struggling private clubs nearby. The course exists and the market is literally right on its doorstep.

I'm not suggesting here that Golf Australia should operate the facility, but they cannot sit back and watch a high-quality course be taken, without a fight or without any commercial return, from the game forever. Golf Victoria and Golf Australia should use whatever influence and access they have to get face-to-face with the developer, the council and the local community. We need them to make the case passionately and effectively, that if Kingswood cannot be developed for housing then it MUST be given an opportunity to operate as a public access golf course. That Kingswood land is golf land. Losing a private course to housing is bad enough, but the idea of a perfectly good one in a major city being turned into a glorified walkway or bike track should be intolerable.

It's time to turn Save Kingswood into Save Kingswood Golf Course.

by Darius Oliver
Back to News