by Darius Oliver
The exclusive Cathedral Lodge Golf Club in country Victoria has followed a star-studded grand opening in October with the winning of an important international golf accolade. The Greg Norman Golf Course Design two hours east of Melbourne, was recently awarded Best New Private International Course by American GOLF Magazine.
Meanwhile, an hour closer to Melbourne the relocated Eastern Golf Club has announced a $1.76M loss to members for the 2017 financial year, and been forced to expand upon an extensive course works program. The loss was inclusive of  $1.325M of course construction costs.
Despite being only two years old, wet weather and the lack of drainage across the former flood plain has compromised golfing conditions for members and the Board has chosen to install another 80km of drainage to hopefully ease the problem. Around 40km of drainage has been installed since opening. The club did not install any drainage during construction, as they believed the extent necessary would be best determined post works. They also did not sand cap the playing surfaces. Additionally, all of the sand in the bunkers needs to be replaced, due to playability issues caused by the fact the sand used was not to specification. The replaced sand will be used to top dress fairways.
In total, the remedial works program will cost Eastern members $1.45M and be funded via the release of $1M debt outstanding from developers Mirvac. It was widely reported that the club's previous Doncaster site sold to Mirvac for $100M in 2011. The developer is due to transfer the club's final $20M next December. One assumes, therefore, that the other $80M generated from the Doncaster sale has been spent on the Yering relocation.
With Eastern now deciding to eat into its final $20 million, members would hope that the losses reported during the first two years of relocation were reversed – and quickly. With construction having been completed, the next couple of trading years will be crucial and highlight the sustainability, or otherwise, of the overall development. The club always seemed on more secure footing than Croydon (Yering Meadows) across the road, but appear to have made some similar fundamental miscalculations.
For 120 years the Eastern Golf Club survived with just 18 holes, but with millions in the bank they decided to build 27 'championship-length' holes at Yering and to add an additional 9-hole par three course. It's interesting to note, that as of June 30, Eastern had just 377 full golf members, of which only 9 are female. There are another 401 members with either 5 or 6 day per week access to the course, and a little more than 1,000 social members paying a $10 per year subscription.
Questions have been asked on this website previously, about the wisdom of building 36 holes for a club with little more than half the playing members of 18-hole clubs elsewhere in Melbourne. For comparison, the Peninsula Kingswood club has 1,487 full-time equivalent members for its 36 holes.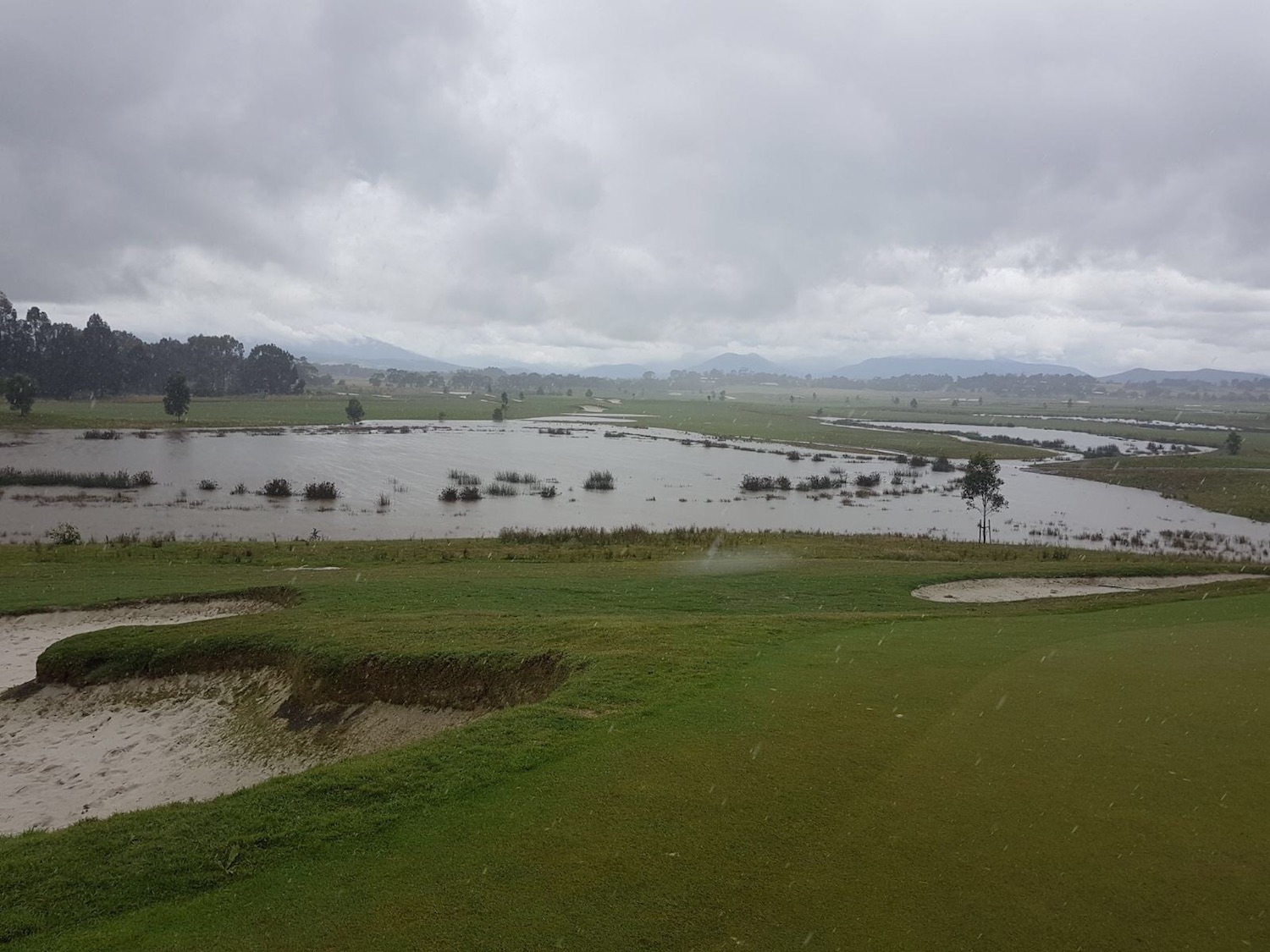 (above) Eastern's 14th/15th holes after recent Melbourne heavy rains.
A survey recently conducted of Eastern members revealed that the primary challenges faced by the club when it comes to member satisfaction and retention included the distance to travel to play, the number of course closures because of corporate events, pace of play and general conditioning. Fixing bunkers and installing drainage should help with the final point, but Yering is a 20km plus commute for most members and with lower fees than high-end Melbourne clubs, plus fewer members, it's hard to see how they can afford to ditch outside play.
While we have long argued that an excellent 18-hole course would have proven more marketable than a good 27-hole course, we wish the club the best nonetheless and sincerely hope that upcoming remedial works can help improve the members experience and attract more local players to the club. With Yering and Heritage still struggling, the Yarra Valley, and the game of golf, both need a strong, healthy and successful Eastern.
Back to News