Hoi An South, Vietnam: The coastline project of Hoiana will be home to Robert Trent Jones II Golf Course Architects' (RTJ II) first Vietnamese championship golf course design: Hoiana Shores Golf Club. Located on the shores of the Eastern Sea, approximately 8km south of UNESCO World Heritage Site, Hoi An, known as 'The City of Lanterns', the golf club is part of a major destination development which harbours the ambition of becoming one of the most compelling golf experiences in Asia.
During his recent site visit to Hoiana to survey progress, Robert Trent Jones, Jr., was adamant about the potential of his newest partnership just south of one of the world's best-loved tourism destinations.
"This property is the most perfect canvas," he said. "Alongside the beautiful coastal terrain, we have been given the ability to shape a design befitting this special region and magnificent new destination. To have a golf course in such close proximity to such a place as Hoi An makes this extra special."
With Hoiana Shores Golf Club scheduled to open in mid-2019, the ownership group, Hoi An South Development, is confident that their masterplan will have a significant impact at national and international levels.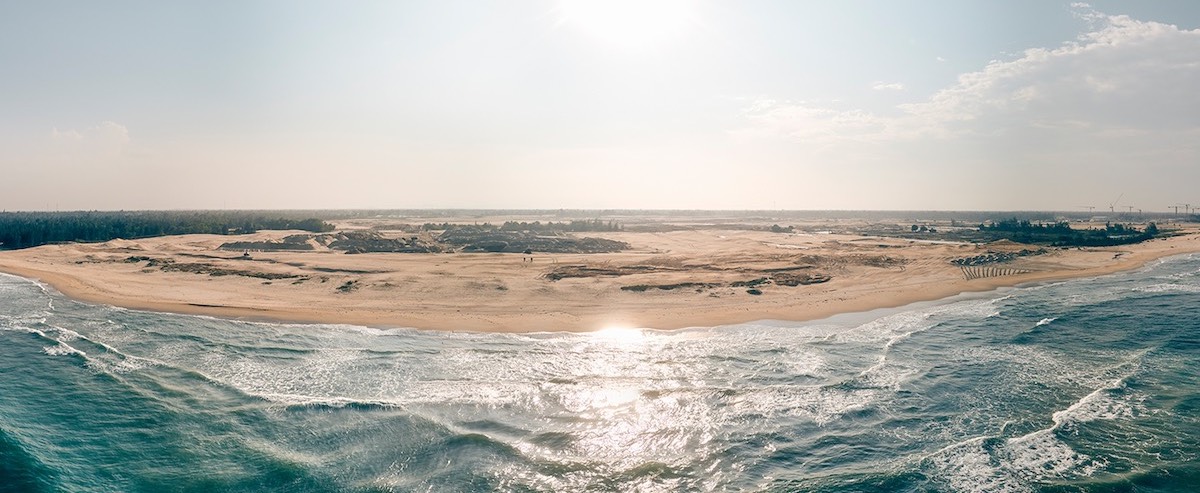 "To hear direct from Robert Trent Jones on the potential of this golf course, when you consider his glittering career and the magnitude of his collection of global projects, is testament to our ambition and the prospect of Hoiana," commented Steve Wolstenholme, Group Chief Operating Officer of Hoiana.
Hoiana is a multi-billion-dollar mega development that stretches over 4km of coastline, spanning 1,000 hectares. The new destination, neighbouring the UNESCO World Heritage site of Hoi An, will be home to a selection of luxury hotels, entertainment outlets, residential communities, retail complexes, as well as the world-class golf club, and is earmarked to become a major attraction for tourists globally. 
RTJ II was selected as the golf course design firm following a comprehensive tender process. Selected from a list of world-renowned designers, it was Jones' authenticity, artistry, and experience that set the firm apart as the perfect candidate.  Additionally, the personal interest and involvement of Jones himself was a pivotal point in the selection process.
"The decision to partner with RTJ II was centred around the ownership group's desire for a distinct and authentic design, emblematic of where we are situated," said Ben Styles, Vice President Golf & Residential Hoiana Shores Golf Club, Vietnam. 
"Given the quality of the site, it required a design partner with certain qualities that would help elevate this project to the fullest of its potential. The RTJ II team is one of very few that can draw on past experience of having worked in the game's golden era for design, many individuals within it having rubbed shoulders with legends in their field. It was clear from the outset that we would bring something very special and unique to Vietnam with this partnership."
RTJ II has designed over 280 golf courses in 40 countries. His appreciation of Hoiana's potential was obvious during a first site visit, as he walked the coastal holes, whose proximity to the Eastern Sea and views of the Cham Islands are a standout feature of the course.
"We always strive to finish with a crescendo in our designs to keep people coming back," Jones said. There will be few that can rival what we have created with this closing stretch, which completes a great symphony of golf." 
The golf club also unveiled its new logo, comprised of a lantern that sits in place of the traditional flag. An ode to the famed City of Lanterns and a clear depiction of the respect felt by the developer related to its position at the cultural heart of Vietnam. 
"Hoi An is a powerful symbol of Vietnam's rich heritage," continued Styles. "The lantern is an iconic feature of the city and to bring such a unique aspect to the golf development is something we felt passionately about."
The golf project is expected to employ in excess of 350 golf and hospitality professionals, the majority of those being sourced from Vietnam's first ever Golf Operations and Maintenance College on site at Hoiana. The education facility is further evidence of the ownership group's commitment to creating new jobs and nurturing local talent, whilst providing a pathway for professionals to transition to Hoiana Shores Golf Club to provide the very best service and hospitality.
Media Release.
Back to News