By: Darius Oliver
Once owned by Cape Wickham developer Duncan Andrews, the long-touted clifftop golf site on Punch Bowl Road in San Remo was sold last week to a Melbourne-based Chinese investor. The price paid for the land is believed to be around $6.5 million, or less than half what previous owner Trinity Property Group paid in 2007.
Occupying stunning cliffs directly against Bass Strait, the San Remo property enjoys southern views to Cape Woolamai on Phillip Island and from northern sections across to Western Port Bay. While superficially a dream site for golf, piecing holes together is not easy on the heavy site and away from the coastline the undulations are so broad as to demand the inland holes use a lot of land. On the positive side, the potential for magnificent clifftop par threes and an iconic short par four was considerable.
There is no word yet on whether the new owners wish to construct a golf course on the site, but there were sightings last year of Greg Norman meeting with prospective developers of the property in Melbourne. Local architects Ben Davey and Tony Cashmore had both previously produced routings for the 120-hectare site.
The 140 Punch Bowl Road property at San Remo is only a couple of kilometres from the failed golf development known as The Golf Club at Bass Coast, which collapsed in 2008 with only half of its Graham Marsh holes completed. The Duncan Andrews plan for San Remo was a golf course along the cliffs, combined with a small residential precinct, which council rejected on the basis that one golf and housing estate in the area was enough. There were concerns about water and the cost of infrastructure, but one can imagine how golf near Phillip Island might have looked had the council supported the Andrews plan, rather than the Golf Club Properties project.
It will be interesting to see whether another routing is produced, and perhaps a golf course at San Remo eventually completed.
The Colliers Real Estate Listing for 140 Punch Bowl Road.
Back to News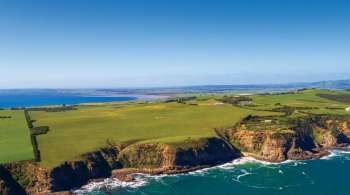 140 Punch Bowl Rd, San Remo, Victoria