by Darius Oliver
As the global slowdown in golf course construction seems set to continue into 2018, we attempted to ask the 'leading' celebrity golf course designers a series of simple architecture questions.
Unfortunately, making contact with the rich and famous these days is difficult, so we post the questions here on Planet Golf in the hope of either attracting their attention, or perhaps receiving responses from our readers.
We look forward to your/their answers.
Tiger Woods – The highest earning golfer in history and probably the game's first eight-figure 'signature designer', can we ask for your expert analysis on how to make golf more affordable?
Jack Nicklaus – Do you imagine the day will ever come, when CAD programs run out of ideas for your golf holes?

above, Spring City Mountain Course by Nicklaus Design. Photo Tom Breazeale.
Greg Norman – You have a 200-year business plan, and have said in recent interviews that you only play a handful of rounds of golf per year. Given you are an infrequent visitor to many of your golf course design projects and seem lukewarm about the game in general, can we ask whether your 200-year plan is inclusive or exclusive of golf course design?
Gary Player – Is how a golf course plays (and whether it's walkable) as important as how some of its holes might look in a calendar?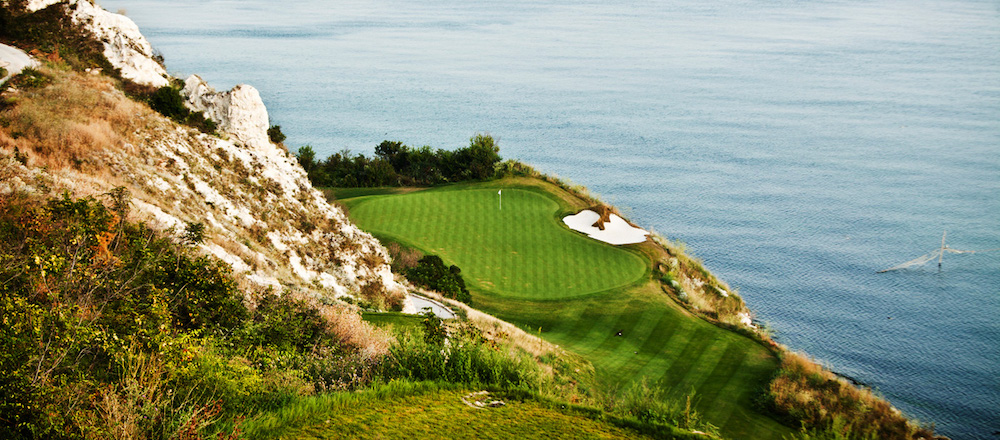 above, Gary Player's beautiful looking Thracian Cliffs golf course in Bulgaria.
Vijay Singh – In your view, is there any other factor in determining the quality of a golf course other than how hard it plays for Tour Pros?
Tony Jacklin – Some will remember Jack Nicklaus's conceded Ryder Cup putt and your two major victories nearly 50 years ago, and for such clients you have three levels of design service/fee – Jacklin Design, Tony Jacklin Design and Tony Jacklin Signature Design. Presumably the lowest fee gets the least attention, and is really constructed for those clients who can remember your playing days and simply want the Tony Jacklin name. My question, frankly, is 'are you serious about this design business, or just taking the piss?'
Ernie Els – If Harry Colt were still alive would you apologise to him for your 'modernizing' work at Wentworth?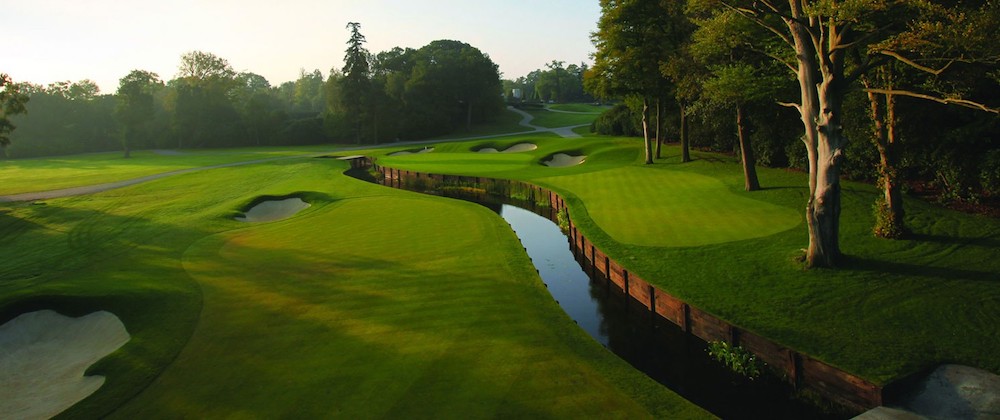 above, Wentworth West Course originally designed by Harry Colt?
Phil Mickelson – Unlike most Westerners I've seen your Aqua 'Championship' course at Shining Star in China. Does that make you nervous about my question?

Above, China's Aqua "Championship" golf course - Phil Mickelson's Shining Star?
Nick Faldo – How hard have you tried to remove your name from the design credits of some of those early IMG projects?
IMG Golf Course Services – If I was interested in commissioning IMG to design a golf course for me, could I wait until opening day to look at world rankings and choose which of your clients "designed" it?
Above, IMG's Ba Na Hills golf course in Vietnam, 'designed' by Luke Donald who we understand has still never been to Vietnam.
Tom Watson – You have achieved so much in golf and are so fondly regarded all over the world. With this in mind, do you regret courses like Spanish Bay and Kiawah Cassique?
Ben Crenshaw – Would you (please) consider renting Bill Coore out to Jordan Speith, Justin Thomas, Rory McIlroy, Dustin Johnson, Brooks Koepka, Hideki Matsuyama, Jason Day – or basically any young professional golfer invited to "design" a new course?
Rees Jones – Given that trouble left and trouble right of a narrow fairway makes the game essentially about accuracy from the tee, my question is simply whether you have any plans to allow golfers to make a choice off the tee on any of your courses?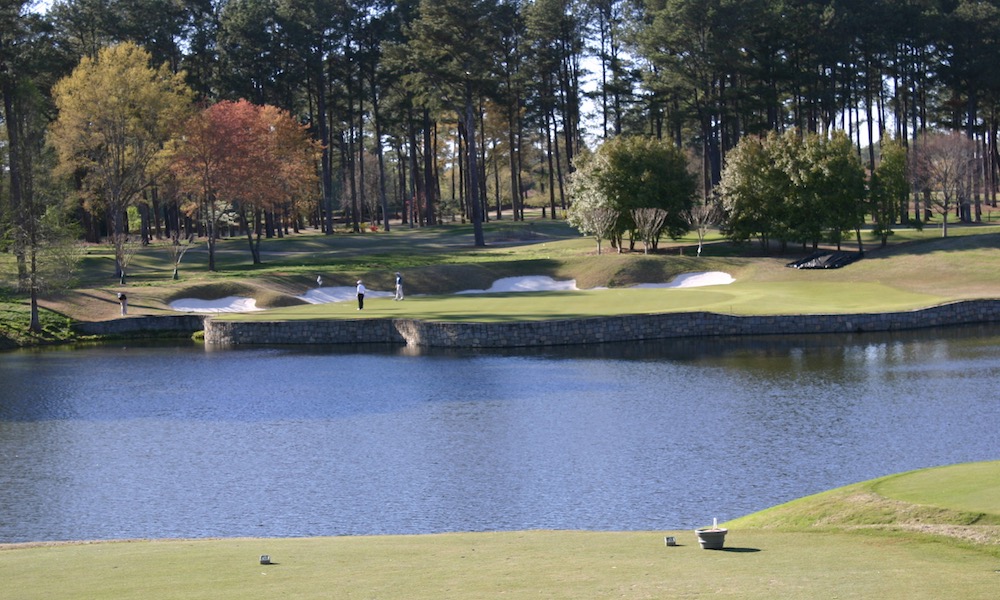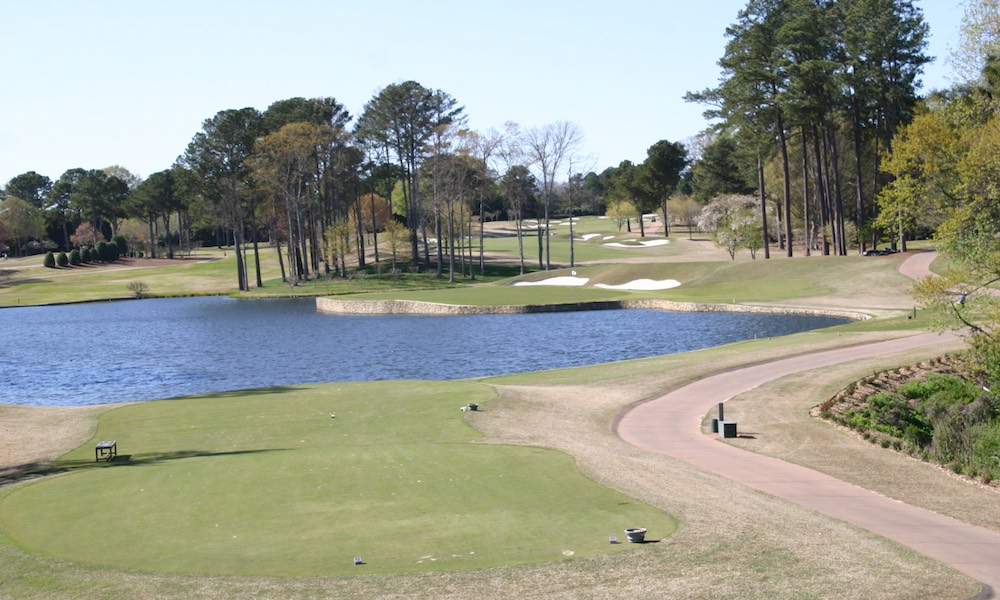 Above, Atlanta Athletic Club Par 3s by Rees Jones. If only his longer holes offered such choice and such diversity. 
Colin Montgomerie – Understand that you are Scottish, but having visited Montgomerie Links in Vietnam I couldn't help but wonder if you (or your assigned European Golf Design team) had ever played a links?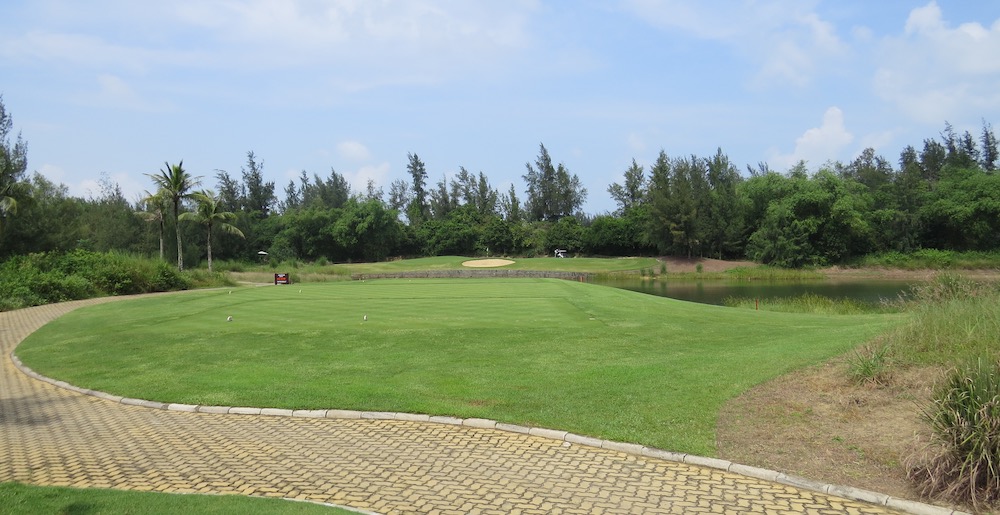 Above, Montgomerie Links in Vietnam. That's right, Montgomerie 'LINKS'.
Adam Scott and Jason Day – More a plea than a golf course design question. Don't do it, please!
Geoff Ogilvy – You seem to be regarded as a 'deep thinker' first and a US Open Champion second these days, so feel free to ask your own question and insert the answer here…..
Greg Turner – Are you a Kiwi Mike Clayton, or is Mike Clayton an Aussie Greg Turner?
Back to News