'This is a course I want to be identified with, one I will be able to say with pride - I did that one.' Greg Norman
Stretching along a curving beachfront ridge at Doughmore Bay in the tiny town of Doonbeg, the spectacular Trump International in Ireland was founded as the Doonbeg Golf Club and originally designed by Australian tour professional Greg Norman. The links occupies ancient sandhills that tower up to 100 feet and were first considered for golf by the founders of the nearby Lahinch Golf Club, who ultimately felt the town was too isolated for their membership. The area sat dormant for a century, until the opening of Norman's layout in 2002. That course was later sold to Donald Trump's company, and renamed Trump International in 2014.
Greg Norman spent more time on site during the initial design of Doonbeg than on any of his other signature projects, partly because he recognized the opportunity to do something special with this site and partly because the routing puzzle was so complex. Making things complicated were restrictions placed upon his design team that prevented the development of some of the principal dunes here, due to the presence of an endangered microscopic snail.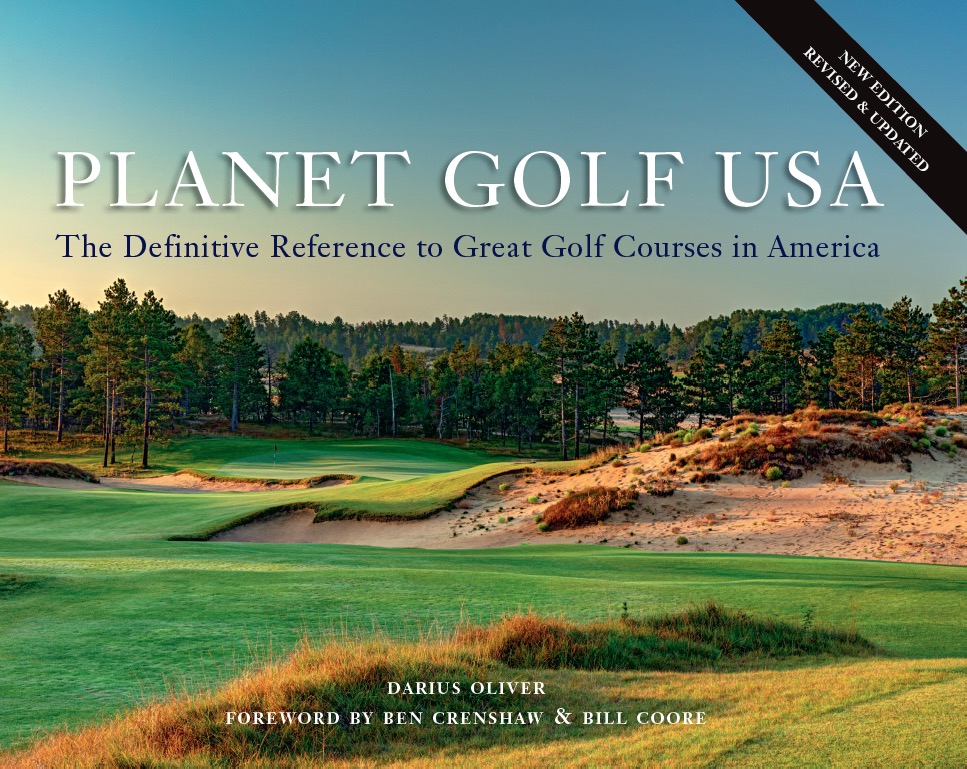 Special Offer – Planet Golf USA Now Only $50 for Christmas (Australia ONLY)
A key planning decision for Norman was whether to sacrifice any further duneland by focusing on a logical and coherent layout or using all of the available drama through design to create as many spectacular holes as possible and living with a few routing issues. Norman chose the latter and, despite tees that hit over greens and awkward cross-fairway walks, so dramatic and visually compelling were the best moments that, on balance, it was hard to argue with his decision. It's hard now not to feel a little sorry for Norman, given what's happened to his design in recent times.
Following Trump's purchase of the Doonbeg links, Martin Hawtree was bought in to make changes. Hawtree re-routed a number of holes and redesigned all 18 of the Norman greens. Most now resemble softly wrinkled potato chips. Some of the structural changes were outside Hawtree's control, but others seem like the result of a domino effect and the desire to remain long and relevant. The famous short 14th hole, for example, which Norman controversially cut into a duneside, was lost to erosion in a major 2014 storm. Hawtree's new 14th hole plays across the old 5th green, so as a result that green had to be moved nearer the 5th tee. The 5th tees were then pushed back as well, and the 4th green moved to prevent a long transition. Length has been retained but neither hole seems as interesting.
Despite some misgivings with the changes, this is still a spectacular place to golf and the best holes and sequences remain quite thrilling. Arranged in a single loop that continually ducks in and out of the towering sandhills, the round begins from a high tee that looks down across a course stretching two miles along the coastline. Tucked into a huge sandy amphitheatre, the opening green site is one of the best on Ireland's West Coast.
Aside from the 1st, feature holes post the Hawtree changes include the mid-length par four 6th, played along the beachfront dunes, and the short 9th, sadly with a new green but still set directly beside the sea. Best on the back nine is the demanding beachside finishing par four and the super-strong 15th, with its green at the base of a massive sand crater. This was apparently Norman's favorite hole, and remains largely as first designed. The same cannot be said of the elevated green site on the par five 13th or of his notorious donut-shaped target at the 12th, which was a lightning rod for those who disliked Norman's design and unlikely to be missed by the members.
When Doonbeg first opened many were critical of its seemingly dangerous and illogical routing while others were convinced that, by virtue of its many highlights, it was one of the golfing achievements of the 21st century. That diversity of opinion is unlikely to have dissipated since Donald Trump's purchase, although it's possible that some golfers will have changed camp and taken the opposing view.
Studying the changes, it's clear that Hawtree would have arranged things differently at Doonbeg if given the original commission. Equally, Norman would have certainly handled the re-routing of his holes and the greens redesign in a different manner. In spite of these contrasting styles and design preferences, Trump International Doonbeg remains a compelling golf experience and, with Lahinch to the north and Ballybunion to the south, a worthwhile addition to your Irish golf itinerary.